AngloGold Ashanti Limited (ANG) is the third largest gold producer globally and the largest on the African continent.
The company was founded in June 1998 with the consolidation of the gold mining interests of Anglo American. It later became the first South African company to list on the New York Stock Exchange (NYSE).
The business combination of AngloGold Limited (AngloGold) with Ashanti Goldfields Company Limited (Ashanti) formed AngloGold Ashanti as it is now.
Its principal product is gold, but also produces silver in Argentina and sulphuric acid in Brazil as by-products.
Today, AngloGold Ashanti produces approximately 3.047 million ounces (oz) of gold per annum and employs an average of 36 952 people (including contractors).
AngloGold Ashanti is headquartered in South Africa with listings on the Johannesburg, New York, Australian and Ghana stock exchanges.
The company has a high-quality portfolio of operations, projects and exploration activities across nine countries on four continents.
Figure 1: Geographic Split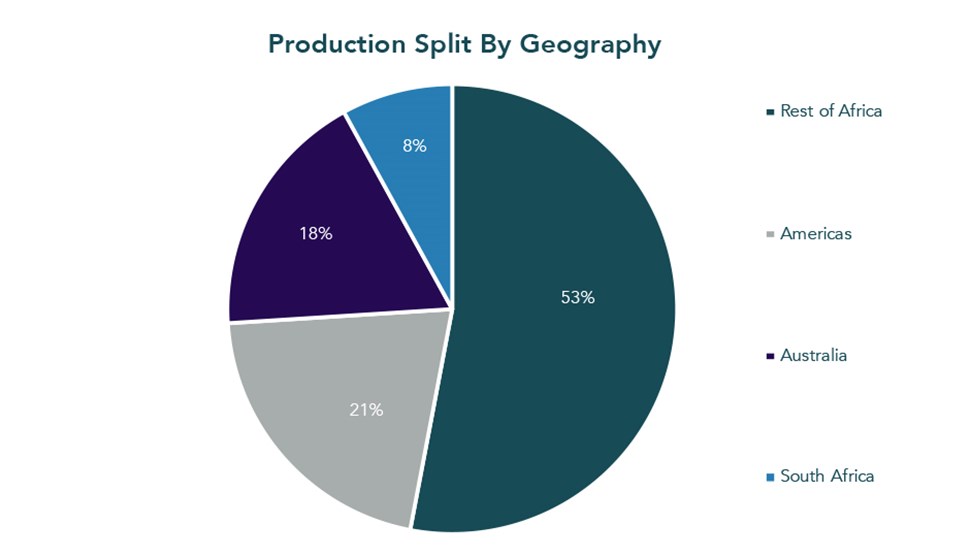 Geographic Diversification: The company's geographic diversification allows it to significantly reduce its operational risks and volatility relative to mining companies that operate in single or less-diverse economic regions. It operates in four main geographies with a production split of 53% Rest of Africa, 21% Americas, 18% Australia and 8% South Africa.
Low-Cost Operations: AngloGold Ashanti is a low-cost producing gold company with a reputation of an improving margin trend between the all-in sustaining costs (AISC) and the average realised gold price. In its 2020 financial year (FY20), the reported AISC was $1 059/oz while the average realized gold price was $1 785/oz, resulting in a margin expansion of 40% from the 28% recorded in FY19.
Mining Method Diversification: It utilises open pit mining methods in some of its operations which enable it to partially offset the higher costs that are associated with underground mining, allowing it to be a low-cost gold producer relative to peers.
Quality Management Team: The management team has a good track record of continuously providing and delivering on a clear strategic direction and operational visibility over the years.
Robust Balance Sheet: AngloGold Ashanti has a clear track record of capital discipline. In FY20, it managed to reduce its net debt to the lowest figure in ten years. Its peak net debt to EBITDA (earnings before interest, taxes, depreciation and amortization) ratio of 2.3x was recorded in FY14 which has since declined to 0.3x in FY20.
Gold price weakness
FX movements
Rising costs and impacts on company's relative cost competitiveness
COVID-19 economic and operational impacts
Maturing assets and mineral resource scarcity
Underinvestment into growth
Regulatory and political country risks
ESG risks