Afrika Tikkun was founded in 1994, with its main aim to foster the potential of young people, creating a sustainable future for the youth of South Africa. They now offer a 360° model providing education, health and social services to young people and their families through centres of excellence in South African townships – taking young people from 'cradle to career'.
We've partnered with Afrika Tikkun for over 10 years, specifically in the Early Childhood Development (ECD) space and Child and Youth Development. In ECD our funding helps to provide the necessary teaching, facilities, and nutrition to children aged 2 – 6, a phase of life that is incredibly vital in order to ensure that children are adequately prepared to enter school. From a child and youth development perspective, many of our young people live in under-resourced and challenging communities and as a result, struggle to complete their education. Their Child and Youth Development Programme takes a holistic approach to supporting young people by addressing their psychological, physical, emotional and social needs.
How we've helped to make a difference
How we've made a difference Aside from regular financial contributions, Sasfin employees have been privileged to get involved in many occasions with Afrika Tikkun. The Sasfin asset finance team hosted a Christmas party for the kids at Afrika Tikkun in the creche and nursery school. Each child received a small gift, hot dogs and ice lollies and the atmosphere was magical. Linda Frohlich, our Head of Asset Finance, was surrounded by the children dancing and singing – this was certainly a day to remember by all the kids and Sasfin staff who participated.
Each year we're privileged to host a small group of girls in their grade 11 year who visit Sasfin and get a feel for the corporate world. Sasfin leaders teach the girls about the different areas of the business, giving some insights into what a corporate career is all about.
On Mandela Day 2019 we visited the Uthando centre in Braamfontein and prepared meals for the children and engaged with them in classrooms. The older kids received a talk from our business leaders on what they'll need in order to prepare for their careers – overall feedback from this day was extremely positive.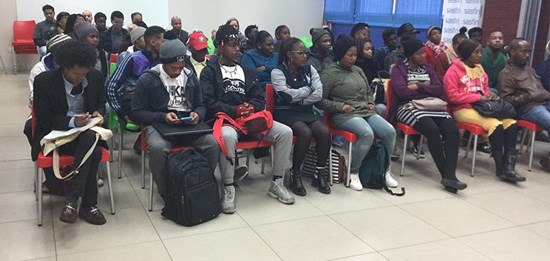 Afrika Tikkun students listening to a talk by a Sasfin speaker.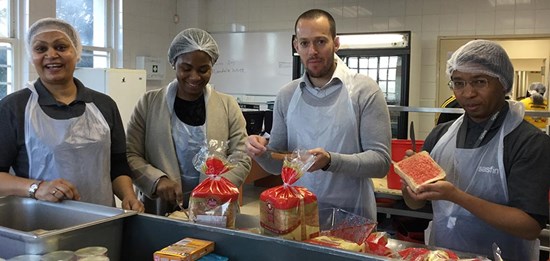 Sasfin team making breakfast for the kids at Afrika Tikkun's Uthando center.
"Afrika Tikkun believes in investing in a young person through enabling them with educational and social development skills. Our programmes, which range from instilling foundational skills in children, to securing employment placements for young people, are part of our award-winning holistic Cradle to Career model." Deputy CEO Alef Meulenberg