With the earnings season being underway, we are starting to get a true reflection of what impacts the Coronavirus outbreak has had across different sectors. In the first four months of 2020, there was a market crash which was underlined by the COVID-19 pandemic. This was due to the lockdown restrictions that a lot of countries were imposing in an attempt to curb the spread of the virus. The limited movement of both people and goods resulted in economy slumps which had a direct negative impact on global oil demand. This triggered a historic market collapse and for the first time on record, the price of US crude oil crashed into negative territory, reaching -US$38 a barrel in a matter of hours, as rising stockpiles of crude threatened to overwhelm oil storage facilities.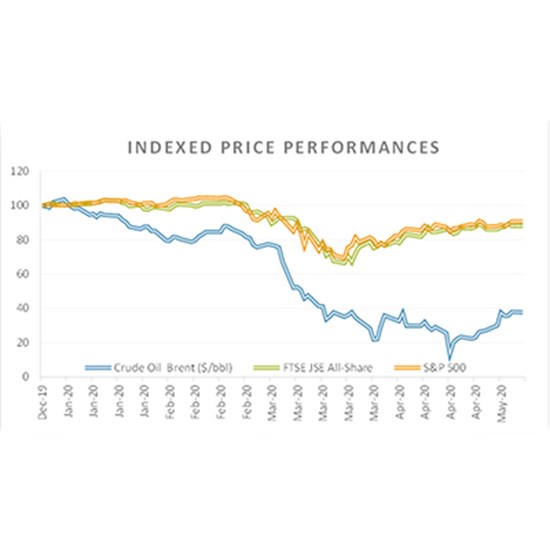 Graph
Royal Dutch Shell (Shell), BP and Total have released annual reports over the past week, showing huge losses from the 2020 financial year. Shell reported a 71% drop in its full-year profit, recording an annual loss of US$21.7 billion. That was the company's lowest recorded earnings since its creation in 2005 through the merger of Royal Dutch and Shell Transport. For the last quarter of its financial year, Shell's adjusted net income fell 87% to US$393 million. The outstanding feature from Shell's results was the decision by the company to raise its dividend for the second time in 2020, even though its cash flow fell by 40% and net debt grew to US$75.4 billion. This was in an attempt to win back investor confidence.
BP's fourth quarter profit fell 96% to a full-year loss of US$5.7 billion, recording its first annual loss in a decade. The company cut its dividend in August for the first time since the Deepwater Horizon disaster in 2010, to US$5.25 per share which it has maintained. It also cut capital expenditure and costs dramatically, adding that it wants to sell US$25 billion in assets by 2025. The company plans to reshape its business for a lower-carbon future, which includes shrinking production in the coming decade and restructuring. BP said its net debt grew to US$39 billion in the fourth quarter and would increase in the first half of 2021, but it aims to reach US$35 billion by the end of the year.
Total joined the list of oil majors reporting full-year losses as it recorded a US$7.2 billion net loss in 2020. It kept its fourth quarter dividend unchanged at US$0.80 per share and set a full-year dividend of US$3.20 per share. Like BP, Total reaffirmed its commitment to become a more renewable business over the next decade. It recently bought a US$2.5 billion stake of 20% in the world's largest solar farm developer Adani Green Energy. The company said it plans to reduce its oil products mix for the group from 55% to 30% of sales. As such, Total's management will propose to shareholders that the company's name changes to TotalEnergies at its next shareholders' meeting in May.
All three companies were largely impacted by significant writedowns in the value of their assets as they reassessed long-term energy prices in light of the Coronavirus crisis. The reports reflect the tremendous impact that the oil trade war, the COVID-19 pandemic and low oil demand have had on the oil majors. In the final quarter of 2020, a few of the pharmaceutical companies started to announce high efficacy results from their initial tests of COVID-19 vaccinations. This translated to a more positive sentiment in the market, with investors starting to believe that the end of the pandemic was soon approaching and that economies would recover soon. It has in turn resulted in a recovery in oil prices, which continue to steadily inch upward and are currently at their highest levels in twelve months. This implies that the worst could be over for the industry giants as they all expect to recover in 2021 from a year of record losses.