The Sasfin Innovation Portfolio has returned nearly 30% per annum in US dollars over the past five years and since its inception (as of 30 September 2021). However, the portfolio declined 9.6% in the third quarter (Q3) and had fallen just over 1% this year (Q1: -0.3%; Q2: +9.9%) by the end of September.

Q3 was a tough quarter for the portfolio. The continued rise in long-term US interest rates over the period was a headwind and once again resulted in growth stocks - which this portfolio is heavily exposed due to its investment strategy – coming under pressure. Good performances over the quarter by the Global X Lithium & Battery Tech ETF, First Trust Nasdaq Cybersecurity ETF and Elastic NV were offset by weakness in our two Chinese holdings, LexinFintech and Baozun, streaming device and platform company Roku and gene-editing group CRISPR Therapeutics, in particular.

Smart Mobility and Clean Energy play, the Global X Lithium & Battery Tech ETF, invests in the full lithium cycle, from mining and refining the metal, through to battery production. Lithium battery technology is essential to the rise of electric vehicles (EVs), renewable energy storage, and mobile devices. We have a favourable view on the upstream lithium miners and battery producers who are responsible for extracting the raw materials and manufacturing the batteries for EVs and are therefore likely to determine the growth trajectory for EVs.

The First Trust Nasdaq Cybersecurity ETF provides exposure to companies engaged in the cybersecurity segment of the technology and industrials sectors. Its largest holdings are Palo Alto Networks, Accenture, CrowdStrike Holdings, Okta and Cisco Systems. Remote work and growth in cloud computing since the start of the pandemic have complicated corporate security, leaving many enterprises vulnerable to hackers. As a result, complaints to the FBI's Cyber Division are up 400% from prior to the pandemic. This has served as a tailwind for companies with exposure to these areas.

LexinFintech and Baozun declined sharply as the Chinese government continued its clampdown on the tech and related sectors during the quarter. LexinFintech is a leading online consumer finance platform in China. The company utilises technologies including big data, cloud computing and artificial intelligence (AI) to enable the near-instantaneous matching of user funding requests with offers from the company's more than 100 funding partners. We are keeping a close eye on our Chinese exposure but believe that these stocks have been overly punished by the market at this stage.It was a challenging quarter for genetics companies - the ARK Genomic Revolution ETF and gene-editing group CRISPR Therapeutics both pulled back sharply.

CRISPR Therapeutics is a Switzerland-based gene-editing company. It focuses on the development of gene-based medicines for serious diseases. The company develops its products using a Clustered Regularly Interspaced Short Palindromic Repeats (CRISPR)/Cas9 gene-editing platform, which allows for precise directed changes to genomic deoxyribonucleic acid (DNA). It has a portfolio of therapeutic programs in a range of disease areas, including hemoglobinopathies, oncology, regenerative medicine and rare diseases. CRISPR is one of the largest and best-funded clinical stage biotech companies focused exclusively on gene therapy on the market today. Lacklustre clinical trial results published by the genetics companies during the third quarter weighed on the sector. CRISPR has been under further pressure in October. The company released data last week from its CAR-T treatment, CTX110, sending the share down more than 13%. In an ongoing phase 1 study for large B-cell lymphoma (LBCL), CTX110 demonstrated impressive safety data, with no evidence of serious forms of an inflammatory reaction called cytokine release syndrome. Unfortunately, only 21% of LBCL patients experienced a complete response at six months. In comparison, Gilead's Yescarta demonstrated a 74% complete response rate in first-line therapy for LBCL last year, with 9% experiencing a grade 3 or higher cytokine release syndrome. Though not a true like-for-like comparison, CRISPR will find it challenging going against not only multiple positive data sets for Yescarta but also years of clinician experience with the Gilead treatment.

However, CRISPR did have promising data for its gene therapy for sickle cell disease during the second quarter of this year. Furthermore, the company has numerous other treatments in its development pipeline targeting a broad range of diseases.

We currently hold 12 stocks and 8 exchange-traded funds (ETFs) in the Innovation Portfolio – all of which we are very comfortable owning and will continue to monitor closely to ensure that we continue to deliver attractive returns for our clients going forward. We are currently conducting research into several new shares within the Cybersecurity, Fintech, and Cloud Computing themes.
PERFORMANCE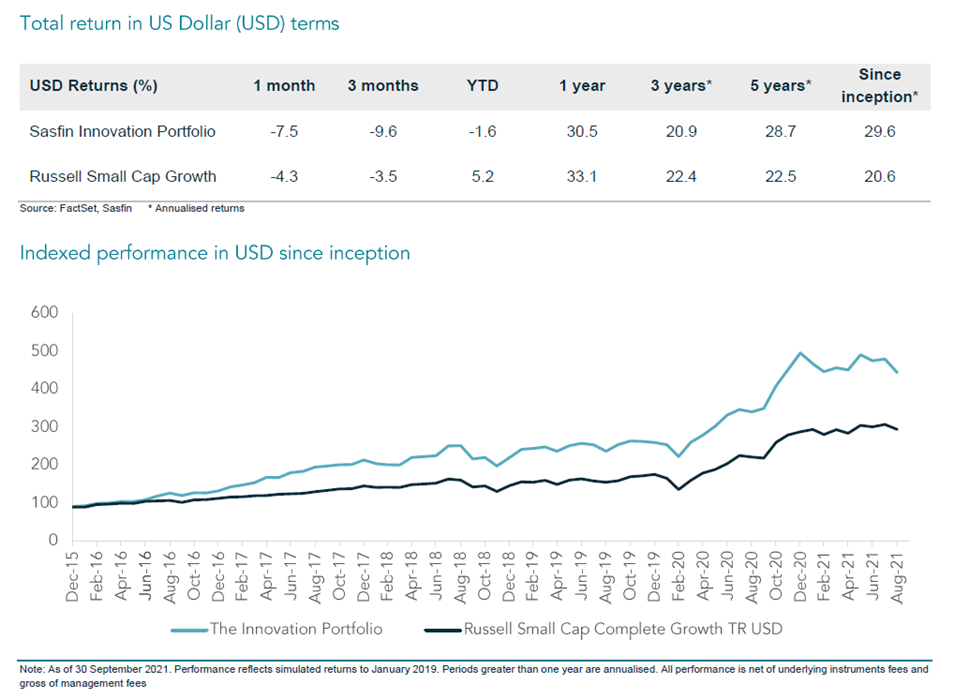 POSITIONING