Anglo American (AGL) and BHP Group (BHG) Quarterly Production
Two of the biggest diversified mining companies listed on the JSE reported their production reports for the first quarter of 2022 which were weaker-than-expected, with both Anglo American and BHP citing macro-economic as well as operational challenges. This piece seeks to provide an overview of how the two companies performed in their respective financial quarters.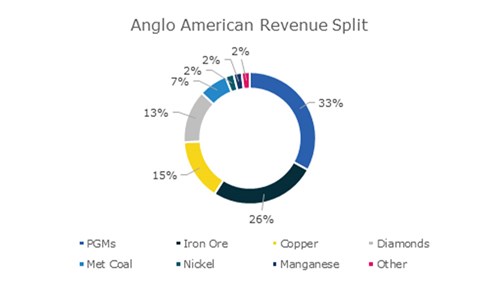 1Q22 Production Report
Anglo American reported a tough Q1 which missed market expectations across the majority of its business divisions. The PGM (Platinum Group Metals) business, Anglo American Platinum reported total production which was down 6% y/y (year-on-year) to 956k ounces. Its sales volumes also fell 26% versus the first quarter of its 2021 financial year (1Q21). The performance in this quarter was impacted by heavy rainfall, as a result, the company lowered its production guidance for 2022 from a range of 4.2 million-4.6miliion ounces to 4.0 million-4.4 million.
Group iron ore production fell 19% versus a year ago, with most of the production losses realised in Kumba Iron Ore (Kumba). Kumba reported production of 8.3 million tonnes, 21% down from the 10.6 million tonnes reported in 1Q21. Its performance was largely impacted by poor plant performance. Iron ore sales volumes from Kumba also fell 9% versus a year ago due to logistical constraints from Transnet. Minas-Rio iron ore production came in at 4.9 million tonnes which was down from 5.6 million tonnes in 1Q21, while sales volumes fell 18% y/y. The lower volumes were attributable to unplanned maintenance at the company's Minas-Rio operations, however, the production declines from both Kumba and Minas-Rio were offset by an average realised iron ore price of $168//tonne.
The copper division reported a decline of 13% y/y, attributable to severe droughts in Chile's central zone which the company says it expects to continue for the rest of the year. The metallurgical coal division also recorded declines in this quarter, citing some operational challenges. On the positive side, the diamonds De Beers business continued to deliver a strong performance, with rough diamond production recording a 25% increase from a year ago.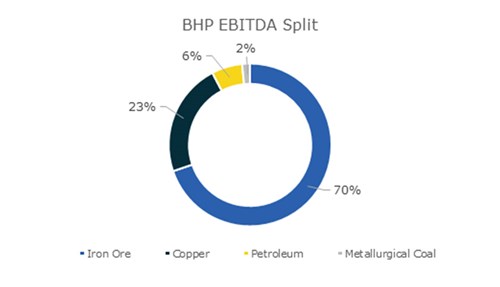 BHP's iron ore production was in line with 3Q21, coming in at 189 million tonnes. However, compared to the previous quarter, iron ore production fell 10%. Some of the challenges it experienced in its third quarter included rising COVID-19 infection rates in its labour force which resulted in a reduced workforce, as well as unfavourable weather conditions, consequently the company's iron ore shipments dropped 8% from 2Q22.
The second-largest division, copper, recorded a 6% y/y drop in production, with increasing COVID-19 infections in its South American operations being a major challenge. Additionally, the performance was impacted by public road blockades in Antofagsta that affected access to sites for both workers and suppliers and as a result, BHP downwardly revised the expected copper production for its 2022 financial year from a range of 1 020-1 080 kt to 1 000-1 030 kt.
The metallurgical coal business reflected a strong performance, recording a 10% q/q (quarter-on-quarter) increase and 20% y/y increase. The improvement in this quarter was attributable to lower rainfall as opposed to what was experienced in the previous quarter. Energy coal, however, fell 14% y/y and was down 13% q/q. At NSWEC (New south Wales Energy Coal), continued wet weather and COVID-19 related labour constraints impacted the company's stripping performance and mine productivity in the March 2022 quarter.
The company added that it targets to complete the proposed merger of its oil and gas portfolio with Woodside Petroleum Ltd by 1 June 2022, subject to shareholder approval and as such, BHP Petroleum was reported as a discontinued operation. BHP also added that all its major projects for it potash business are tracking according to plan, with one of the major shafts now being at a 99% completion rate.