Anglo American – COVID-19 Update
Summary of Conference Call
Anglo American held a conference call on Thursday, 09 April 2020 to give an update on its operations amid the COVID-19 outbreak.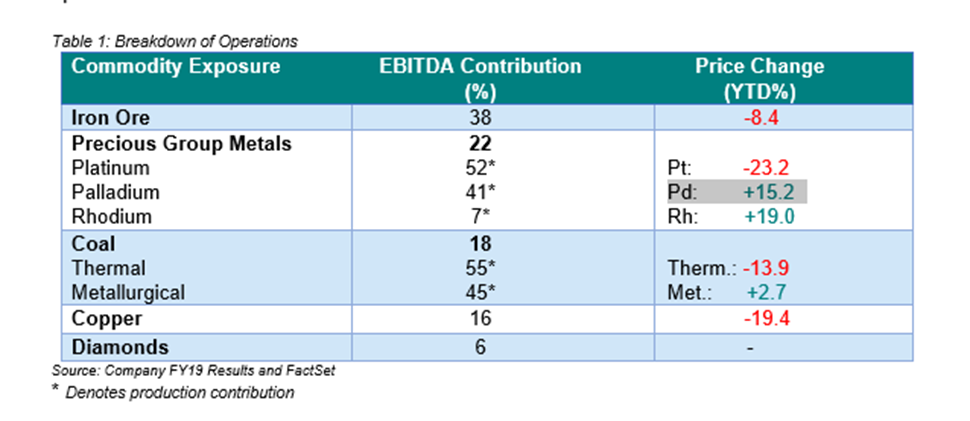 Iron Ore
Mining is continuing at comfortable and optimal levels at Minas Rio with 70% workforce on site. The operations are open pit mining which predominantly requires truck and shovel work, therefore social distancing is embedded in the nature of mining.
Kumba Iron Ore is continuing operations with 50% workforce on site. Based on the South African lockdown, the guided FY20 production range of 42 – 43Mt is expected to be lower by 2 – 3Mt (per month of lockdown).
On the logistics side, Kumba is reliant on the efficiency of Transnet which is operating at 50% capacity. So far, the logistics are efficient.
On the demand side, there is positive demand coming from China with most of the Kumba production going to the Asian region.
PGMs
Given the issues with converters, refined metal sales were on halt in any case prior to the lockdown requirements. Supply from SA will be severely disrupted as a result.
Mogalakwena which is the key operation is operating at 50% workforce and Amandelbult is on care and maintenance.
Coal
Thermal Coal is a small contributor to earnings given its price pressure and weaker demand. Weakness in the division is expected to continue.
Operations are at 50% workforce and demand is fine but the group expects reduced demand from India.
Metallurgical Coal operations are highly mechanised therefore social distancing is working well and operations are continuing.
Demand also looks fine so far with decent demand going into India which has just completed its first week of lockdown. As a result, the group expects a divergence of its cargos from India to China; and given that China is self-sufficient in metallurgical coal, expectations are for prices to fall.
Copper
The copper operations are open pit and are social distancing compliant by nature. Workforce has been reduced to 50% on site.
There are currently no changes on the logistics side and supply is not really disturbed.
On the demand side, smelters are running in China and premiums are also rising which speaks to a rising demand.
The operations in Peru were still predominantly construction work which makes social distancing difficult, therefore the workforce has been reduced to critical staff only.
De Beers
There are no issues on the supply side but issues lie on the end markets. There is very low footfall on the retail demand side with no foresight as to how this will last.
Complying with social distancing requirements with 25% workforce in the SA operations and 50% workforce in Botswana.
The impact of the reduced workforce is not relevant given the lower demand.
Resorted to a continuous selling model which is to sell by demand request.
Overall it seems Anglo's critical operations are continuing fine. There are still significant risks that lie ahead, namely

1) Supply chains may continue to tighten which may make it difficult to move product around.
2) There could be outbreaks of COVID-19 on the mines which may result in complete shutdowns of operations.
3) Demand weakness may grow given the lockdown extensions that countries are implementing.


Anglo is a competent and well-managed company amongst its peers. There has been an aggressive sell-off across board with a lot of uncertainty as to how long the impacts of COVID-19 will continue for. On these grounds, we maintain a cautious view on Anglo American.