The U.S. is well on its way to "reopening". Over 40% of the U.S. population have been fully vaccinated and more than half have received at least one dose. Following various bureaucratic delays, the rollout across Europe has begun to gather steam, though in many parts of Asia the rollout remains somewhat behind.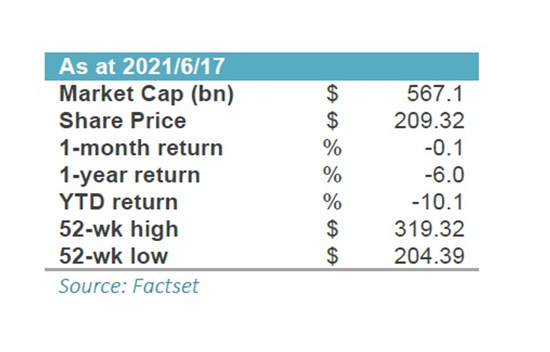 Alibaba reported a net loss of Rmb5.5bn ($836m) on Rmb187bn in revenues for the quarter from January to March as regulators hit Alibaba with a record $2.8 billion fine in April for abusing its dominant position over rivals and merchants on its e-commerce platform. Revenues rose 64%, boosted by the acquisition of a supermarket chain last year, and came in ahead of analyst expectations.

China's reigning ecommerce leader also outlined a large investment plan aimed at competing with upstart rivals such as Pinduoduo, which overtook Alibaba in annual shoppers at the end of last year, in part by offering them massive discounts. Alibaba has also invested in taking on rival Meituan in food delivery.

Alibaba's results showed that its fintech arm, Ant Group, posted record profits in the fourth quarter of last year, the first indication of the condition of its business after Chinese authorities cancelled its $37bn initial public offering in early November.

Sources: Company results, Financial Times, Wall Street Journal
Why I like the share
Alibaba operates China's most-visited online marketplaces, through Taobao (consumer-to-consumer) and Tmall (business-to-consumer). It is also the leading online payment provider and the biggest cloud service provider in China. The core commerce business has historically driven earnings higher, but future growth is expected to come from new initiatives including: payments (Alipay), cloud services, the expansion of international e-commerce and its new online-to-offline initiative.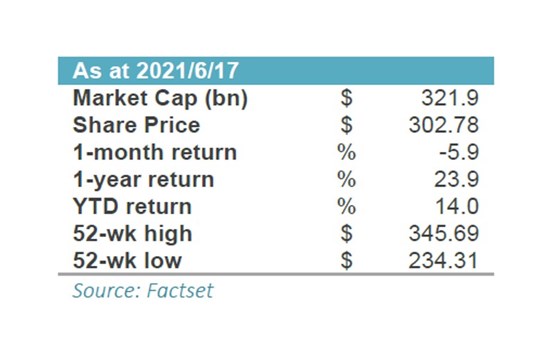 Home Depot's sales jumped 31% in the first quarter as the fresh round of government stimulus checks in March also added to resilient demand for home improvement products.

The company was classified as an essential retailer, accelerating sales for the company's do-it-yourself supplies as consumers tackled new projects while stuck at home. A booming housing market has also helped fuel growth, although soaring lumber prices and higher interest rates have dampened sales of newly built homes in recent months. "The current shortage of new housing clearly is helping to drive improvements in the home values, which is a good thing for spending in the home," CEO Craig Menear said on the conference call.

However, management cautioned it was difficult to predict how its business would be impacted by a potential change in shopping habits in the coming months as the reopening of the U.S. economy threatens to slow a pandemic-fuelled sales boom.

Sources: Reuters, Company results
Why I like the share
The Home Depot was founded in 1978 and is the world's largest home improvement retailer with over 2200 stores across the United States, Canada and Mexico. The company sells more than one million building and home improvement products to both do-it-yourself (DIY) customers and professional contractors. Their stores average nearly one hectare in size, which is more than twice the industry norm. The company has the opportunity to increase its share of the US$600bn US home improvement market, and should continue to benefit from a healthy housing market.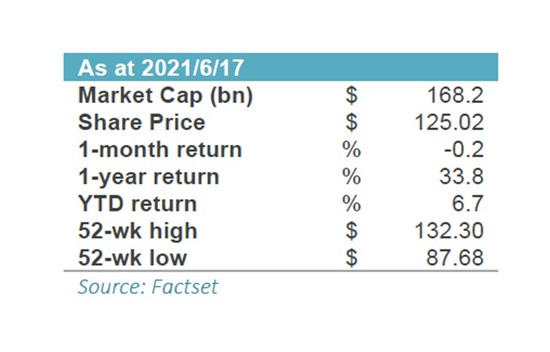 Medical device maker Medtronic beat quarterly Wall Street estimates, aided by a recovery in its core business as more people opted for non-urgent procedures such as knee and hip replacements.

U.S. medical device makers now expect more people to sign up for the procedures, shaking off their hesitancy for hospital visits during the pandemic, as restrictions ease and the vaccination drive gathers steam.

Medtronic is fast approaching its pre-pandemic level and most of the company's business has reached nearly 85%-100% recovery, CEO Geoff Martha told Reuters. Sales from emerging markets, which includes China, surged 47% to $501 million during the quarter. Business in China, one of Medtronic's large markets is back to normal, Martha said.
Sources: Reuters

Why I like the share
Medtronic is one of the world's largest medical technology companies, operating across more than 150 countries. The company's device-based medical therapies and services are used to treat nearly 40 medical conditions. Medtronic has a strong pipeline across all businesses, including next-generation technologies such as a spinal cord stimulator to be used for pain therapy as well as a nerve monitoring system. It is also focused on its robotic surgical systems.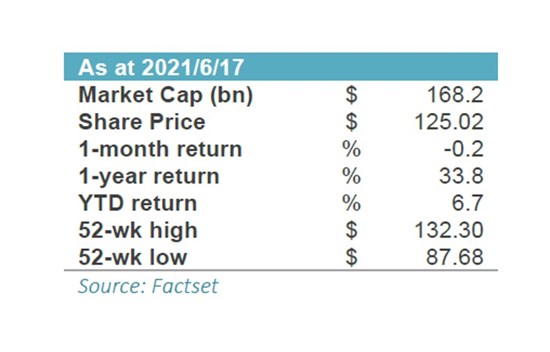 Nvidia reported record quarterly revenue and profit, propelled by demand for videogaming and cryptocurrency and despite a broad-based shortage of semiconductors.

Nvidia specialises in graphics processors that have flown off shelves as people flocked to videogaming for entertainment during the coronavirus pandemic. The way those graphic chips work has also made them popular for other applications, including performing artificial-intelligence calculations and mining cryptocurrencies, further inflating demand.
The company's latest generation of graphics cards sold so quickly that a secondary market emerged where sellers offered them at inflated prices. To help alleviate shortages of cards intended for videogamers, Nvidia has taken the unusual step of adding software to cap their cryptocurrency mining performance. Nvidia hopes the move spurs miners to instead buy new hardware targeted at them.
Sources: Wall Street Journal, Company results
Why I like the share
Nvidia is the largest chip company in the US and provides investors with exposure to some of the fastest-growing themes and areas within the technology sector: Artificial intelligence, machine learnings, 3D/augmented reality and autonomous driving.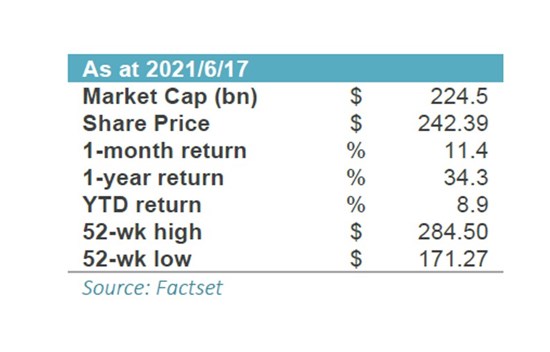 Salesforce.com raised its full-year forecast for revenue as well as profit, and reported quarterly revenue that beat analysts' estimates, following increased demand for its cloud-based software due to a pandemic-led shift to remote work.

"Our performance in the first quarter was strong across all financial metrics," chief financial officer Amy Weaver said in a press release. "We saw record levels of new business and strength across all products, regions, and customer sizes."
Sources: Reuters
Why I like the share
The company revolutionised the Customer Relationship Management (CRM) software industry in 1999 with its cloud-based CRM solution, now known as Sales Cloud. Since then, it has evolved into one of the world's most innovative companies, engineering cloud-computing/software-as-a-service (SaaS) solutions for more than 150 000 companies worldwide. It is the largest cloud-based CRM solution provider and pure-play SaaS vendor in the world, producing subscriptions revenue several times larger than its peers.
Click here to download the full newsletter.
If you would like more information, you can contact Nick at Nicholas.Dakin@sasfin.com.