"Location, location, location". While Harold Samuel (founder of Land Securities) is often credited with coining this phrase in 1944, it is believed to have been in common use when he was still quite young. While the phrase's exact origin may be uncertain, we are certain of location's critical importance in the rise of Spar.
COVID-19 has changed so much for so many. The burning question on our mind is this: Has COVID-19 caused Spar to lose, or squander, its location competitive advantage and will this change our investment case?
The group has historically been well-positioned in convenient neighbourhood locations as many of the historic 'corner café' owners have upgraded to the Spar banner. This has fuelled Spar's market share growth as modern lifestyle dynamics such as smaller housing units and time-starved dual income households, among others, that have driven a trend towards more frequent shops and emphasising convenience.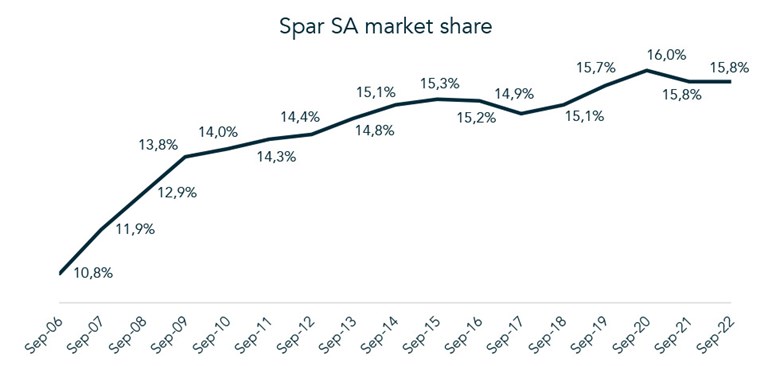 The importance of extensive reach into neighbourhood and community centres is borne out by numerous international and domestic studies that suggest that key determinants of store selection are, in fact, convenience, both in terms of location and the available product range.
Cue the COVID-19 pandemic...
Lockdown directives and safety concerns drove anxious consumers to neighbourhood food stores for supplies. This proved to be a boon for Spar, which saw nominal sales growth ahead of the General Dealers segment (Statistics SA definition: Retail trade in non‑specialised stores with food, beverages and tobacco predominating).
However, since the lockdown ended Spar's sales growth has lagged the General Dealers segment. Topping the list of possible factors that we consider may be behind this lagging performance, is the pandemic-fuelled rise of on-demand grocery delivery.
Has this silver bullet negated Spar's long-standing neighbourhood location advantage by bringing the store even closer to consumers, in fact, as close as the palm of their hands?
During this time on-demand grocery delivery 'became a thing', and while Checkers' Sixty60 was not the first scheduled or on-demand grocery delivery, the meteoric rise of Checkers' Sixty60 (April 2021) certainly captured the investment community's imagination. Pick n Pay and Woolworths also juiced up their delivery offerings while Spar was, for the most part, silent...until recently.
We acknowledge that operating an on-demand grocery delivery service in Spar's case is a little complicated. Unlike the corporate ownership of stores in the case of the other grocery retailers, Spar's store owners are independent retailers, that happen to fly the Spar banner.
Spar recently reported in its 2022 financial results, that it has "made excellent progress with its newly developed on-demand shopping platform SPAR2U, having gone live at 87 stores during the second half of the [2022] financial year". SPAR2U takes the form of an 'ecommerce as a service' solution that Spar offers to store owners.
Our lingering concern is that it may be difficult (or impossible) to win back the customers lost to peers' on-demand services, especially now that the new behaviour has been given time to establish itself. Essentially, now that the customer has downloaded the app and is happy with the service they are receiving, why should they switch from Sixty60, for instance, to SPAR2U.
Bringing it back to our investment case for Spar: While we are concerned about Spar's competitive position in South Africa, we believe the sufficient factors exist to afford us the time (for at least another six months) to wait-and-see whether or not the South African location advantage is lost forever or recoverable. These factors are:
1) The robust performance of their Irish and Swiss operations,
2) The turnaround potential of its Polish operation, and
3) A narrower, albeit persistent, lag of nominal sales growth to the General Dealer segment in 3QFY2022. (July 2022-September 2002).