Company Heritage
Hermès was started by Thierry Hermès in 1837, making harnesses and bridles for European noblemen. The extension into saddlery and luggage established the iconic Hermès style in the late 1880s to early 1900s. Today Hermès still caters for modern 'noblemen' with a focus on high-end price points in the absolute luxury market.
The group has a strong reputation for quality and style with a high degree of vertical integration (60%) from raw material to distribution. Furthermore, all production is undertaken by artisans in France (80%) and the balance within Europe.
The group's most iconic products are the highly sought-after, Birkin (launched in 1984) and Kelly (1956) bags.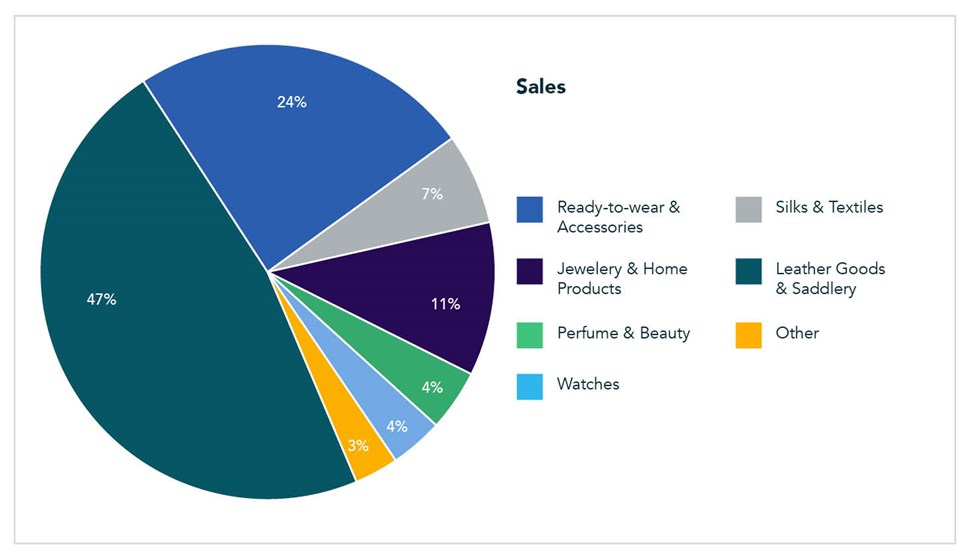 Hermès' category mix reflects its heritage with Leather Goods accounting for 47% of sales (1H2021). Compared to some other luxury peers, Hermès is less dependent on fashion cycles given its mix (Leather Goods), classic styling and ever‑green iconic products.
While the Birkin and Kelly bags are estimated to account for 55% of Leather Goods (almost 25% of group sales), this dominance it is not viewed as a risk considering the scarcity and desirability of these bags. This view is supported by the fact that the price of pre-owned bags has not only appreciated over time, but also often surpass the price of new bags.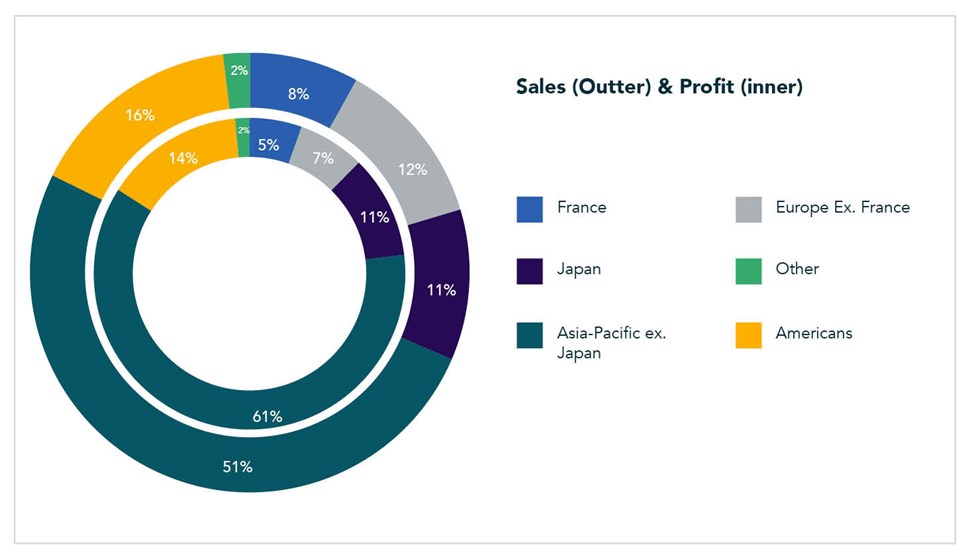 Hermès' primary channel of distribution is retail sales via its 306 stores, 222 company‑owned and 84 strictly controlled concessions. The concession stores are typically a legacy of historic partnerships in key markets with a strong local operator, but these are gradually being bought out.
Relative to its main luxury peers, Hermès over‑indexes on exposure to the Asian region, which has been the key growth driver in luxury spend for at least the past five years. In the first half of 2021, Asia accounted for 62% of group sales, compared to 41% for LVMH and 48% for Kering.
While France and Europe historically accounted for about 30% of sales, in 2020 and 2021, its contribution has fallen back to around 20% due to the absence of tourists and the on-shoring of purchases by especially Asian customers. The group has also been active in developing its online channel, especially in recent years. hermès.com now operates in 28 countries and is reported to be one of the group's largest 'stores'.
Why We Are Interested
A key reason for our interest in the company is it's consistent, industry leading and high Return on Invested Capital (ROIC). The group's average ROIC over the past 10 years is 25%, compared to LVMH and Kering at 14% and 8%, respectively.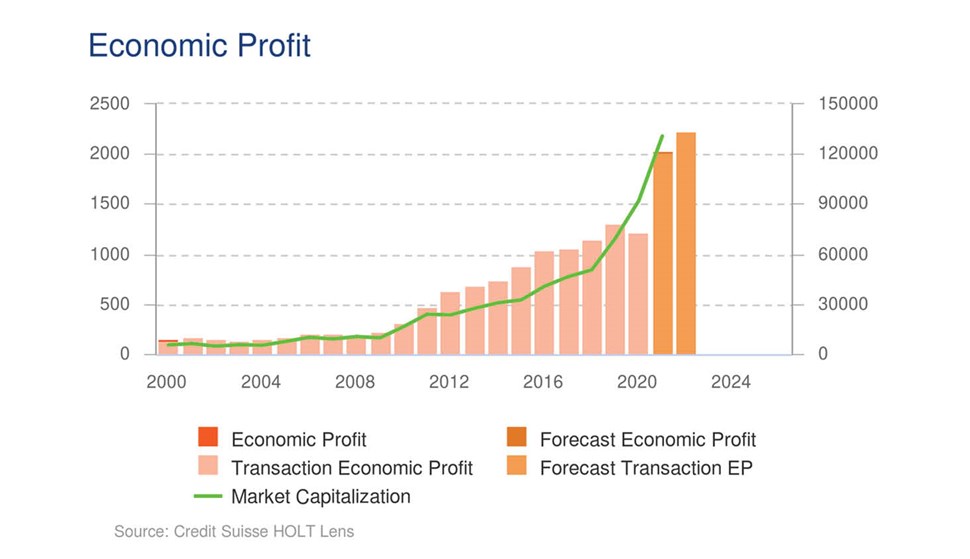 So, while Hermès trades at a substantial valuation premium to the luxury sector, this market value is well supported by the group's ability to consistently generate economic profits well in excess of its cost of capital.
This has enabled the group to fund its growth (production capabilities and design creativity) internally, paying its shareholders handsome dividends and special dividends in recent years, and yet remain in a net cash position.
We also like the group's high-end luxury focus, which we believe is structurally supported by the widening wealth gap globally.
Finally, the group characteristics outlined above have ensured low sales volatility. This is a function of, on the upside, constraints in production capacity, and supported by 'by invitation only' waiting list for its most iconic products. This scarcity drives the desirability of its products and imparts strong pricing power.
This 'protected' nature of Hermès' sales is demonstrated by the fact that in 1H2021 its revenue was 29% higher than pre-pandemic 1H2019 and its operating income was 51% higher. This compares to LVMH (+14% and +44%) and Kering +5% and -1%, respectively versus 1H2019.
The group's performance and stability are evident in the 15‑year total return graph below. Not only has Hermès' total return consistently out‑perform its peers and the MSCI All-country world (MSCI ACW) index, but draw‑downs during market shocks, have been less pronounced.