AngloGold Ashanti and Gold Fields Quarterly Production
Two of the largest gold mining companies listed on the JSE reported their production reports for the first quarter of 2022 which broadly came in line with market expectations. Both AngloGold Ashanti and Gold Fields were challenged by high inflation at the start of the year, with most of the impact coming from energy, logistics and consumable costs. This piece seeks to provide an overview of how the two companies performed in their respective financial quarters.
AngloGold Ashanti Limited (ANG)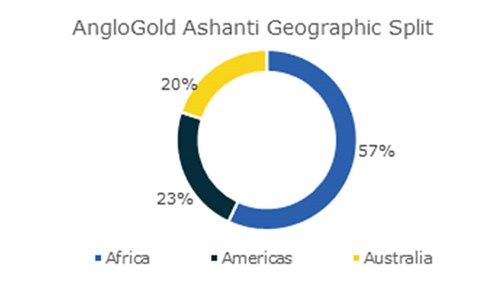 Source: https://www.anglogoldashanti.com/ (FY21)
1Q22 Production Report
AngloGold Ashanti reported group production of 588 koz (kilo ounces), which was flat y/y (year-on-year). Strong improvements from its Australian operations were offset by weaker production from Africa (Kibali, Geita and Obuasi). Production from the Americas region was flat in this quarter.
The company's cash costs for the first quarter of 2022 were up 4% y/y to $1 040/oz, largely driven by higher inflation across different cost groups, as well as higher royalty payments due to a higher realised gold price for the group. The recovered grades from its underground operations were 8% higher, which partially offset the inflationary pressures. Its all-in sustaining costs (AISC) per ounce came in at $1 405/oz, 9% higher than the $1 287/oz reported in 1Q21. Albeit this quarter's ASIC were higher versus a year ago, the company received a gold price of $1 881/oz in this quarter, translating to a margin of $476/oz which continues to provide good free cashflow (FCF) generation for AngloGold.
FCF increased to $268m from an outflow of $98m reported a year ago, reflecting the company's ability to maintain balance sheet strength and flexibility during an ongoing period of reinvestment into growth. Group adjusted net debt was flat at $917m, reporting an adjusted net debt to adjusted EBITDA (earnings before interest, tax, depreciation and amortization) ratio of 0.5 times.
Though management anticipates the inflationary pressures to persist, AngloGold maintained its full-year production guidance for 2022 across all metrics and believes it is on track to achieve them.
Gold Fields Limited (GFI)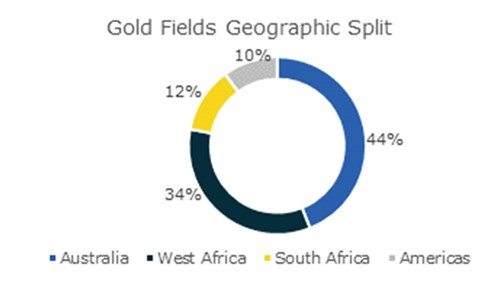 Source: http://www.goldfields.com (FY21)
1Q22 Production Report
Gold Fields reported a relatively better performance than AngloGold, with group production increasing 7% versus a year ago. The notable performance came from its South Deep mine in South Africa, which continued to improve its productivity trends in 1Q22. The Americas and Australian regions also recorded strong performances, recording production of +21% and +10% y/y, respectively. This was partially offset by West Africa, which recorded a fall in production of 5% y/y.
Group AISC for the quarter increased 7% y/y to $1 150/oz. Like the rest of the sector, Gold Fields also experienced inflationary pressures but noted that inflation for its 2022 financial year is tracking ahead of what the company had forecasted in February.  This suggests that group unit costs may fall towards the upper end of the company's guided range.
Gold Fields realised an average gold price of $1 884/oz in its first quarter, up from the $1 778/oz realised in 1Q21. Its realised margin between the gold price and AISC was $734/oz, higher than that of AngloGold. The higher cashflows enabled the company to reduce its net debt from a little over $1.2 billion in 1Q21 to $984m in 1Q22. As such, Gold Fields' net debt to adjusted EBITDA ratio was brought down from 0.6 times to 0.4 times.
The company also added that it is on track to achieve the production guidance it had provided in February 2022, also noting the continued risk of inflationary pressures throughout 2022.