Who is Noble B-BBEE Advisory.?
Noble is a black female owned entity which was started in 2016, and has a passion for true and reflective transformation in South African communities. Noble offers B BBEE advisory, consulting and training services to the South African market, transferring financial literacy knowledge to consumers for individual well-being and the public good.
Sasfin has worked with Noble for two years, as the facilitators of Consumer Financial Education across four programmes. Sasfin provides funding so that the organisation can develop, produce and implement these face-to-face financial literacy education programmes for learners in grade 8 – 11, teachers, disabled learners, as well as SME's.
High school and teacher development programme
Schools in previously disadvantaged areas like the Gauteng Townships and rural regions such as Hammanskraal face a huge lack of financial knowledge and were very grateful to be beneficiaries of this programme. The teachers took these consumer education teaching guides and implemented them in the academic year, giving grade 8 to grade 12 learners access to this knowledge. Learners expressed how these financial skills are not taught at home and with them attending such workshops, they felt truly empowered.
People living with a disability programme
Often marginalised by communities, the disabled people that participated in these programmes told of their hardships and how managing their own finances is a challenge they face daily. These workshops built confidence, and gave people living with a disability the ability to not only understand their medical needs – but also to plan and budget for them.
SME development programme
200 black youth owned businesses were selected from a pool of qualifying National Youth Development Agency small businesses and they then went through six days of structured and informative training on finance. The SMEs expressed gratitude to Sasfin for sponsoring these workshops, stating that financial literacy is lacking and is what they need in order to be truly empowered for success.
"Noble as an SME has itself been transformed and uplifted through its relationship with Sasfin. Sustainability of small business depends on corporates giving small business opportunities and access to market. Sasfin gave Noble an opportunity which has assisted in growing Noble's revenue by 12% , and created four new jobs, two of which were black youth." ~ Ngoni Mantiziba-Muleya, Noble Director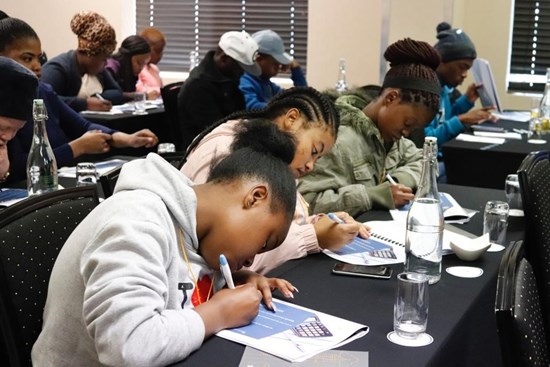 Students at the Consumer Financial Education workshop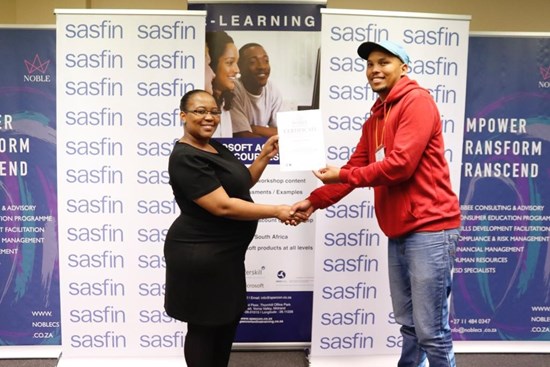 Ngoni Mantiziba-Muleya handing out a certificate to a learners at the end of the programme.